Over twenty years ago,  we dedicated ourselves to becoming a place where people gather and share – sharing plates, stories and sangria. While sangria may be traditionally known as a classic summer cocktail, at Ceviche, we believe it's the perfect seasonal sip for your Thanksgiving table.
The Origin
At Ceviche, sangria is one of our favorite signature beverages to share with family and friends, and its rich history makes it even sweeter.
While Sangria was enjoyed in Spain as far back as 1,100 B.C., a similar beverage was also created by the ancient Greeks and Romans and was often served hot. It began as a much simpler version of wine and fruit. In fact, its first variations consisted of watered-down wine mixed with anything nearby, such as sugar and spices, to sweeten the drink and give it flavor.
In Spain, the red grapes used in the beverage inspired the name "sangria," which means "bloodletting" in Spanish. Variations of this drink existed across Europe with white wine popularly used in France and England and the addition of different fruits for unique flavor profiles.
Today, the punch consists of red, white or sparkling wine and chopped fruit. It's enjoyed year-round, but tastes even better when enjoyed in the company of those you love.
This Thanksgiving start a tasty new tradition with Ceviche's Sangria recipe that is sure to become a holiday favorite.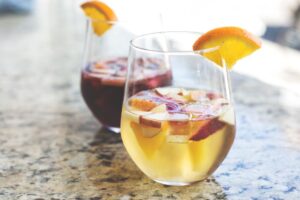 Ceviche's Sangria Recipe
Serves: 6
You will need:
1 – 750ml bottle of red or white wine
3 ounces brandy
3 ounces Triple Sec
6 ounces simple syrup
2 cups chopped fruit (oranges, red apples, green apples)
3 tablespoons sugar
5 cups ice to chill
3 tablespoons cinnamon
1 large pitcher
Instructions:
Once you have all of your ingredients, it's time to make your sangria!
Dice your fruit (oranges, red apples, green apples) into evenly sliced pieces.
In a large pitcher, combine the fruit, wine, brandy, triple sec and simple syrup.
Cover the pitcher and place in the fridge for 30 minutes to 1 hour. This will allow the fruit to marinate and soak.
While the sangria is in the fridge, mix the sugar and cinnamon in a small bowl and line the rim of your sangria glass (optional).
To serve, pour the sangria over ice and enjoy!
Ceviche's Insider Tips:
Wine: At Ceviche, we prefer to use Tempranillo or Verdejo from Spain in our sangria, but any dry white or red wine will work.
Brandy: Our brandy of choice is Torres 10yr.
Triple Sec: Cointreau, Tipplers Orange or any orange liquor will work as a replacement.
Simple Syrup: To create your own simple syrup at home, simply combine one part sugar to one part water